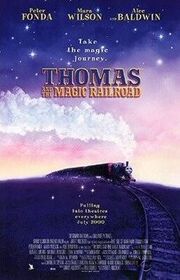 Thomas And The Magic Railroad is a 2000 British-American-Canadian adventure fantasy film based on the British TV series Thomas The Tank Engine & Friends, The Railway Series by the Rev. W. Awdry, and the American TV series Shining Time Station. This was the first Thomas The Tank Engine feature-length movie. When the film was released, it received generally unfavorable reviews from critics and fans alike. The movie's budget was $19 Million and grossed $19.7 Million, making it somewhat successful.
Plot
Mr. Conductor's supply of magic gold dust, which allows him to travel between Shining Time and the Island of Sodor is critically low. Unfortunately, he doesn't know how to get more. Meanwhile, Thomas is fending off attacks by Diesel 10. Getting more gold dust will require help from Mr. C's slacker cousin, Junior, his new friend Lilly, and her morose grandfather, plus the secret engine he's hidden all these years and couldn't get running.
Why it's better than Misty Island Rescue and Big World! Big Adventure!
It was Thomas The Tank Engine's first feature-length movie.
While the audiences hate this movie, some Thomas fans like the movie and consider it better than Misty Island Rescue and Big World! Big Adventure!
All of the characters are more memorable than the new ones.
The sets looks amazing and better than the animations in Big World! Big Adventure!
The voice acting on the engines is really good.
Memorable quotes like Mr. Conductor's "Sparkle! Sparkle! Sparkle!"
Thomas is not an idiot like in The Miller Era.
Really catchy songs, like the Really Useful Engine and Shining Time or The Locomotion.
The chase scene was the most memorable scene in the movie.
Even if the movie had magic in it, some fans prefer the magic than the bouncing.
Britt Allcroft had a hand in making the movie and did a good job voicing Lady, the first female steam engine in the series.
The scene where Toby rings his bell to distract Diesel 10 proves he was more useful than the CGI series.
There's a Director's Cut of the movie that's far superior than the final version.