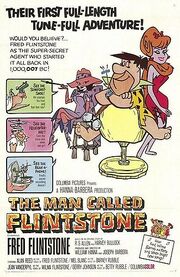 The Man Called Flintstone is a 1966 spy comedy starring Alan Reed as Fred Flintstone, Jean Vander Pyl as Wilma Flintstone and Pebbles Flintstone, Mel Blanc as Barney Rubble, Gerry Johnson as Betty Rubble and many others.
Plot
While Wilma, Betty and Barney are out in Paris, Fred Flintstone goes undercover as a spy and goes out to bring down a criminal organization called SMIRK.
Why It's Better Than The Flintstones (1994) and The Flintstones in Viva Rock Vegas
This was the first theatrically released Flintstones film made and is entirely animated.
Good musical numbers
The film has a nice touch of mystery and drama.
There are humorous moments here and there.
The entire cast from the show is in the film (except for Bea Benaderet, the original voice of Betty for the first three seasons. Instead Gerry Johnson did her voice).
William Hanna and Joseph Barbera were the animators and directors of the film.
Fred acts like James Bond in a way.