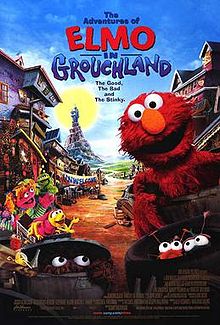 The Adventures of Elmo in Grouchland is a 1999 fantasy-comedy musical film based on the long running series Sesame Street. This is also the second Sesame Street film since the release of Follow that Bird in 1985.
Plot
Elmo goes to a place where Grouches are present.
Why It's Better Than Barney's Great Adventure
Better plot.
It's actually based on a good series.
More interesting concept.
More likable characters.
The idea of the main TV character going to another world is more interesting.
Despite the film mainly focusing on Elmo, a majority of other Sesame Street characters appear, including Big Bird.