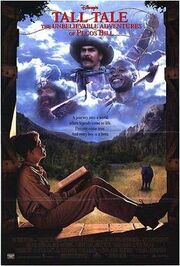 Tall Tale (originally titled Tall Tale: The Unbelievable Adventures of Pecos Bill) is a 1995 Western action fantasy film starring the late Patrick Swayze as Pecos Bill, Nick Stahl as Daniel Hackett, Scott Glenn as J.P. Stiles, Roger Aaron Brown as steel driving man John Henry and Oliver Platt as Paul Bunyan.
Plot
Daniel Hackett (Nick Stahl) has to deal with a greedy land grabber named J.P. Stiles (Scott Glenn). Later on, three legends that his father told him about Pecos Bill (Patrick Swayze), John Henry (Roger Aaron Brown) and Paul Bunyan (Oliver Platt) come to his rescue.
Why It's Better Than Wagons East!, The Lone Ranger and Wild Wild West
Better storyline.
Better performances.
Pecos Bill is an awesome and interesting type of cowboy that can do things that all cowboys can (fight bad guys and take care of friends) and can't do (ride tornadoes).
Better characters (especially Daniel Hackett).
More amusing quotes.
Better fight scenes.
Downsides
The film flopped at the box office.
Some moments are too dark for younger viewers.