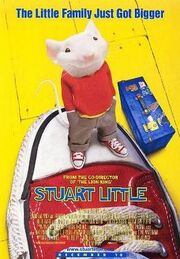 Stuart Little is a 1999 Columbia Pictures film starring Michael J. Fox as the title character, Jonathan Lipnicki as George Little, Hugh Laurie as Frederick Little and Nathan Lane as Snowbell. The film co-stars Steve Zahn and Chazz Palmentieri
Plot
A young mouse named Stuart is adopted by the Little family in New York City.
Why It's Better than Pixels
Better storyline about a little mouse going on big adventures.
The characters are more developed and more likable.
Seeing Stuart confronting cats was much more exciting than seeing Adam Sandler battling Pac-Man.
Humor that's more sensible and makes far more sense.