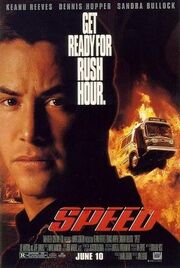 Speed is a 1994 action film starring Keanu Reeves, Sandra Bullock, the late Dennis Hopper, Jeff Daniels, Joe Morton, and Glenn Plummer.
Plot
LAPD SWAT officer Jack Traven (Keanu Reeves) tries to stop a bus that's rigged with a bomb that was set up by a madman (Dennis Hopper).
Why It's Better Than Speed 2: Cruise Control
This was the first film was and a big hit and is Die Hard on a bus.
The film goes by at a fast pace.
Exciting adrenaline pumping action throughout.
The film has an extremely memorable villain with a much more memorable fate.
Memorable music.
Good one liners like "Pop quiz hotshot!"
Reviews