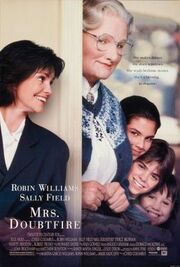 Mrs. Doubtfire is a 1993 comedy starring the late Robin Williams, Sally Field, Mara Wilson, Pierce Brosnan and Robert Prosky. The film is based on the novel Alias Madame Doubtfire. The screenplay was written by Randi Mayem Singer and Leslie Dixon. The film was directed by Chris Columbus, who also directed the first two Home Alone films and Adventures in Babysitting.
Plot
Daniel Hillard (Robin Williams) is living the life as a father and a voice actor, but then things start to change when his wife, Miranda (Sally Field) announces that she doesn't love him anymore. The two get divorced. Although, Daniel sometimes sees his kids sometimes after the divorce, he feels more depressed and alone, Daniel decides to see his kids more often by impersonating a fake Scottish nanny named Mrs. Euphegenia Doubtfire. Miranda accepts Mrs. Doubtfire as their nanny, but has no idea that it's actually Daniel posing as a nanny.
Why It's Better Than Jack and Jill
The film has more heart.
Robin Williams in drag was more amusing than Adam Sandler in drag.
Very little product placement.
Better writing.
Better storyline.
More humorous dialogue.
Daniel has an interesting backstory.
This was a good non-James Bond role for Pierce Brosnan.
The Only Bad Quality
Miranda is often whiny and extremely irritating.
Trivia
Since the film was a big success, there were plans for a sequel to the film and was scheduled to be released sometime in 2014. Unfortunately, the film was cancelled due to Robin Williams' tragic death on August 11th of that year.