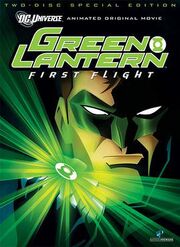 Green Lantern: First Flight is a 2009 direct-to-video animated superhero film adaptation of the DC Comics Green Lantern mythology. Centering on the first mission of Hal Jordan (Christopher Meloni), the first human inducted into the Green Lantern Corps, the film is written by veteran DC Comics animation collaborator Alan Burnett, produced by Bruce Timm, and directed by Lauren Montgomery.
Plot
Coming soon!
Why It's Better Than Green Lantern (2011)
The film's story is better written.
More faith to the source material.
Better acting.
Despite the 2011 film having good fight scenes, the fight scenes in this film are a lot better.